---
---
2016-2017 T
RILOGY
A
UDITIONS:
Auditions will be held on 6/4!
Download or print 2016-2017 Audition Information: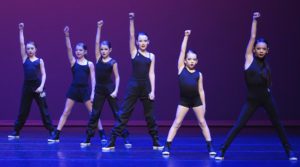 All dancers are required to audition at the studio in their Trilogy Age Division (as listed below):
Teen

: Ages 13+

Pre-Teen

: Ages 12+

Junior

: Ages 11 to 13+

Mini

: Ages 9 to 11+

Micro Mini

: Ages 7 to 9+

Petite Micro Mini

: Ages 5 to 8+
All dancers may audition for the younger or older division, but must audition in their appropriate age division as well. At their discretion, the judges will have the option to move dancers to another division if they feel it is better suited for them. When signing up, Juniors, Pre-Teens and Teens must turn in a one-page resume listing their performance experience. Audition dates and times are as follows:
Micro Minis

: 6/4 – 11:00 to 12:00

Minis

: 6/4 – 12:15 to 1:45

Juniors

: 6/4 – 2:00 to 3:30

Teens & Pre-Teens

: 6/4 – 3:45 to 5:15
---
Founded in 2002, Trilogy Dance Company is the nonprofit performance group affiliated with Turning Pointe Dance Centre. Members have the opportunity to attend dance conventions from all over the country to train with professional choreographers and dancers from Los Angeles to New York. They perform and compete at venues in the Pacific Northwest and across the country each year. Several former Trilogy members have gone on to pursue dance careers.Trilogy members range in age from 6 to 18 years old in four age divisions: Mini, Junior, Teen and Senior. Auditions for member selection are held annually in June for the following school year. Please click on the link below photo for information regarding next year's season.